Replace the VGA laptop. Hoang Vu Laptop Repair Center introduces you to how to replace vga laptop chip with the latest chip maker technology with 100% success rate for all current mainstream laptop laptops.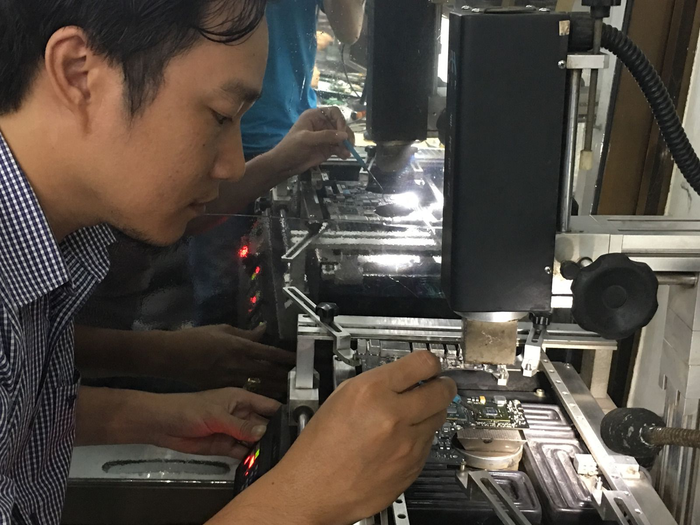 Replace the VGA laptop. Experienced over 10 years in the field of repairing professional laptops in general and specializing in vga laptop in particular. Almost all of us have replaced all the vga chips on the mainboard. We have accumulated a wealth of experience and knowledge for each chip. So we have the best solution for each chip. The Huangpu Center is one of the hardest to replace the most difficult chip codes from the core 2 such as the IBM T60, IBM T61, and so on. We have successfully replaced the chip code on.
Replace the VGA laptop. Currently the Vga chips are designed by engineers of the company or not only one single main. Therefore, the technique of replacing these chips requires the very high skill of senior technicians. Our combination of experience and state-of-the-art machinery makes for the most perfect technical quality, providing the best solution for each type of vga chip on the main laptops. You can refer to the video channel HV Chanel on youtube to refer to the process of replacing the vga chips that we have done in a professional way to get a deeper look at technology change vga Laptop at Our center.
Replace the VGA laptop. Hoang Vu would like to send you a reference price for the service of replacing the vga Laptop chip in our center, with each chip cost varies depending on the input price of each type of chip. For more information on replacing the vga laptop, you can call us on Hotline: 0916 472 445 Mr Vu or send a message via Hoang Vu's Facbook for the most professional advice and answers.
Hoang Vu Center provides you with the service "repair standard 5 star" leading in Vietnam today:
⭐ Convenient location to find, modern facilities and equipment.
⭐ Experienced engineers and technicians repair over 60,000 products.
⭐ Enjoy the most attentive service.
⭐ Quality of repair is a priority # 1.
⭐ Warranty and after-sales service life.
Commitment of the Hoang Vu Center:
Components used to replace the customer is new 100% zin onion, quality assurance.
The cheapest repair cost in the area.
Customers will be tracked repair center employees in the technical area.
Repair time, replacement parts are always shortened center to help customers save time.
Consulting enthusiastically about the problems that customers encounter.
For more information, you can contact Hoang Vu Center via Hotline: 0916 472 445 for the most professional advice.